Check out our wide variety of bird baths and water accessories
Give Your Birds the Wonder of Water
Give your birds a place to drink and clean their feathers. Our decorative bird baths are available in a variety of shapes, sizes and colors and are great for attracting birds not already visiting your feeders.

Metal Makes for Great Baths
Light and durable, Metal Bird Baths make it easier for you to reposition your water source. These baths can be left out in freezing or frosty conditions without the fear of them cracking or chipping.
A Great Bath for a Great Price
Made of durable plastic, this bath's sides are sloped so birds can move to their desired bathing depth. The texture of the dish provides grip for birds as they move through the water. The plastic baths are made to standard 14" or 20" diameters to fit a variety of stands or hangers: your choice to mix and match. (Sorry, no picture)
Heated Bird Bath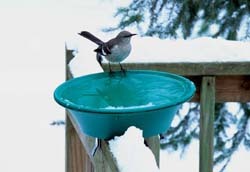 This durable, plastic bird bath provides a reliable source of water, even to temperatures below -20° F. Easily mounted to wood deck rails, it features a built-in 150 watt, fully grounded heater that is thermostatically controlled to conserve energy. Birds appreciate water at all times, and it is fun to watch them drink and bathe. Perhaps the most vital time to provide water is in the depth of winter when alternate sources are frozen over. Contrary to what you might think, bathing in winter keep the oils in birds' feathers fresh and actually helps keep the birds warm.
Wiggles While It Works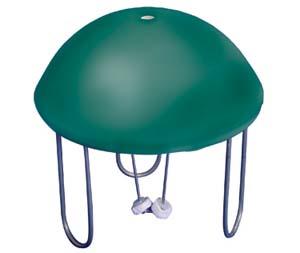 Moving water gets a bird's attention. The Water Wiggler™ creates ripples in your bird bath, announcing the water's presence while preventing mosquitoes from laying eggs. No plumbing is required, and since it runs on two D batteries, there's no extra wiring. This gadget creates an effect very pleasing to the eye, and on the practical side, the batteries last for months.