A Bird House to Remember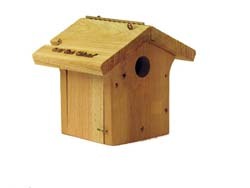 Our high quality Wren/Chickadee bird house is made of durable red cedar. Its design allows for proper drainage and ventilation to keep the nest and babies dry and has an ideal floor size for wrens and chickadees. Also includes our two-way opening system. The side opens for clean out and the roof opens for monitoring the nest.
This is just one example of the broad selection of bird houses in store. Some good pictures are posted on our Google+ page.
When buying a bird house, consider whether you want it to be functional (i.e. designed with specific birds in mind with the features that the bird family needs, like the Wren / Chickadee House above) or decorative (i.e. made to accent your garden or patio or even home, but not really well designed for a bird family) or both functional and decorative. We have a selection of all types, cute and not-so-cute-but-durable, and our helpful staff will assist you in finding what works for you.